PVDF Polymer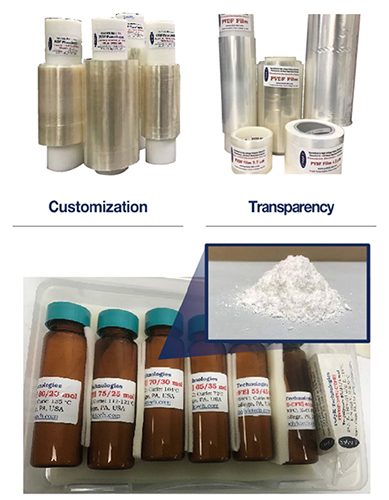 PolyK Piezo PVDF film & powder
In-house roll-to-roll production of piezoelectric PVDF film with thickness from 10um to > 200um: consistent quality and low cost.
For R&D in high energy density capacitor, piezoelectric, pyroelectric, electrocaloric ECE & electroactive polymer EAP.
Include 20 grams of each of Seven typical polymer resins based on P(VDF-TrFE).

PVDF Film
Beta Phase PVDF film (non poled) with high optical transparency : you can design your own poling pattern for special applications.
Poled PVDF film with high d33 and d31 with our proprietary film production and poling process using the best reisn.
Produce special thickness film based on application with short lead time.
Supply paper-size film for R&D to > 100m long film for OEM, quick deliver.
Special electrodes can be applied based on required : sputtered gold, silver paste, etc.
PVDF Polymer Kit : P(VDF-TrFE)
P(VDF-TrFE) 80/20 (mol), Curie: ~ 135℃
P(VDF-TrFE) 75/25 (mol), Curie: ~ 112-121℃
P(VDF-TrFE) 70/30 (mol), Curie: ~ 104℃
P(VDF-TrFE) 65/35 (mol), Curie: ~ 72℃
P(VDF-TrFE) 55/45 (mol), Curie: ~ 66℃
P(VDF-TrFE) 50/50 (mol), Curie: ~ 60℃
P(VDF-TrFE-CFE) Terpolymer 63/30/7 (mol), Tm : 130℃. Ferrorelaxorpolymer with high dielectric constant ~60 at 25℃
P(VDF-TrFE-CTFE) Terpolymer 65/31/4 (mol), Tm : 130℃. Ferrorelaxorpolymer with high dielectric constant ~60 at 50℃ and 1kHz
Other compositions available upon request